The Endangered Wildlife Trust initiated a study to better understand South Africa's captive lion sector and evaluate its environmental and socio-economic impacts. This article is a summary of the findings of this study.
May 2, 2022
Vultures provide many ecological, economic, and cultural benefits. However, several vulture populations are declining rapidly, and conservationists are calling this an 'African Vulture Crisis'. What do we know, and what can we do?
Apr 7, 2022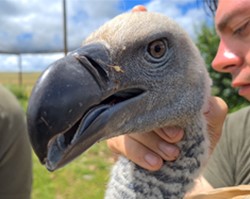 On 3 October 2021, the Lowveld BOPP team was alerted that a Cape Vulture had been found grounded on Licata Nature Reserve, northwest of Hoedspruit.
Mar 4, 2022